Activating Collective Wisdom: Five Essential Practices
Join us for a six-session immersive online experience as together we explore five essential practices that create the conditions to awaken, cultivate, and enliven our capacity for collective wisdom.
DETAILS
WHEN:TBD
WHERE: Online
COST: $650 / Student Rate: $500
Team Rates (for 4 or more people working together: 50% off full rate)
Limited Scholarships Available
(Don't let finances be a limitation – contact us)
HOSTED BY: Alan Briskin & Amy Lenzo
In Collaboration with the GLEN (Global Learning & Exchange Network)

---
CONTENT & APPROACH
This online course will use multiple approaches & modalities; we will be discussing techniques, but our emphasis will be on what lies beyond technique. While we as your hosts will be guiding and initiating the exploration, we'll be working collaboratively as a group within a peer-learning context.
Each session will focus on one of five essential practices for activating, cultivating, and enlivening collective wisdom. They will each include dialogue in large & small groups, and the creative utilization of imagery, sound, and video.
The course as a whole will include:
An every-other-week "real time" session in an online environment conducive to deep engagement
A regular flow of resources and inspirational material conveyed during alternate weeks
An "always on" asynchronous online environment where we can work on assignments and continue exchanges and conversations between sessions
A Collective Wisdom Field Book, which we will use during the course as a way of capturing & articulating our collective learning.

SESSION FOCI
Each session is 2.5 hours, to give spaciousness and the time to go deeply. Sessions will be held every other week (except for the last session), and we will have assignments and prompts on the "off" weeks to deepen our understanding of each practice.
All sessions will be recorded and made available to participants in case you have to miss one, but we recommend being there if you possibly can because much of the value of this course will be in our interactions.
Here are are our foci for each session:
Essential Practice 1: Deep Listening

Essential Practice 2: Suspending Certainty

Essential Practice 3: Keeping the Whole System in Mind

Essential Practice 4: Welcoming Emergence

Essential Practice 5: Preparing for the Extraordinary

Closing Ceremony: Beginning Anew

WHO IS THIS COURSE FOR?
The five Collective Wisdom Essential Practices are meta-patterns. Together they cultivate Presence, and the course is designed for people who are actively seeking to deepen Presence within groups – their own and in the group as a whole.
Beyond that, it is for Facilitators, Faculty, Coaches, Consultants, and Leaders who are:
Passionate about transformational and pro-social behavior
Seeking to create more collaborative environments in business, education, religion, and not-for-profit organizations
Involved with communities of practice such as World Cafe, Theory U, Circle, Council, etc. and wish to cultivate skills and habits common to all of them
Committed to lifelong learning about collective wisdom

SOME KEY QUESTIONS FOR EXPLORATION
In this time of transformation – some systems decaying and others emerging – how can my work tap into collective wisdom and avoid collective folly?
What is the relationship between spirituality and large scale social/systems change?
How can I engage the apparent contradictions and polarities of today's world without being trapped by them?

THE ONLINE ENVIRONMENT & TECHNOLOGY
We will be using state-of-the-art video conferencing technology (Zoom) for our "real time" sessions, and a special distance learning environment for connection and assignments in-between sessions.
But beyond great technology, we are committed to providing you with an online experience that is fun, easy to access, intimate, and deeply connected.
You are invited to join us in this unique adventure as we upset assumptions and stereotypes about what is and isn't possible in an online environment, and find our own stride together.
We will do everything possible to support you fully through any learning curve that is needed, and make sure you are comfortable in the environments we'll be using. We ask that you do your part by bringing a positive attitude, and availing yourself of the help offered.
For an optimum experience, you will need reliable internet access and a computer with a camera (headphones, or a very quiet space, is definitely helpful), but you can also use a tablet or smart phone to participate. If you don't have access to an internet connection, it is also possible to use a phone line.

MORE ABOUT YOUR HOSTS
Alan Briskin
alanbriskin.com
Alan is co-author of The Power of Collective Wisdom and The Trap of Collective Folly and has been a major contributor to framing and understanding the larger field of Collective Wisdom as a discipline. He has been an executive coach and organizational consultant for over 30 years.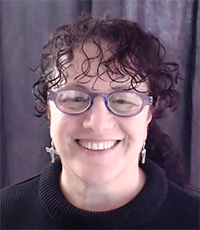 Amy Lenzo
weDialogue & BeautyDialogues
Amy's 15+ years of professional experience hosting participatory practices online, including pioneering online World Cafes in "real time", has fueled her passion for online engagement that connects people to themselves, each other, & the natural world.
In Collaboration with:

FINANCIAL POLICY
We are living in an economy that clearly doesn't work for everyone. Many feel that the financial systems we have now are near their breaking point. For some of us, that point has already come.
Our response is to set a fee that is reasonable and fair for producing this series. Because we want to make the work available to everyone who truly wants to be there, we also offer student and group rates, along with limited scholarships and exchanges. If you are interested in discussing these options, please contact Amy.