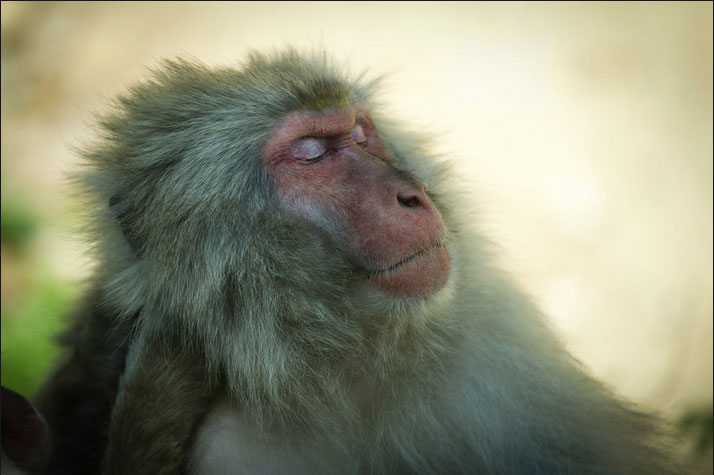 Does spirit exist in all forms of life?  Is there a divine spark within us if we look closely enough?
Some scholars speculate spiritual intelligence requires an intellectual capacity to contemplate the Cosmos.  So it is not surprising humans speculate that only other humans can have spiritual intelligence – especially given the reluctance of apes, whales, dogs, and cats to hold seminars on the subject.
Last May, I had the great fortune of being welcomed into a community of macaque monkeys in Nagano, Japan. They are the famous snow monkeys, called by this name due to their ability to live in arctic conditions while lounging around in heated pools.
I was not formally welcomed.  However, their collective ability to ignore my existence was a form of welcome, allowing me to set up my camera and witness the intimacy of their relations with each other.  I photographed in a controlled state of ecstasy, knowing that this period of time before winter is when the social bonds of their community are heightened.
The macaque remind us of our inter-species connection; beings who share with us the capacity for self expression, empathy, social learning, and close family bonds.  They have been known to roll snowballs, and we observed a young female drawing in the sand with a stick; a budding Picasso.  Look closely, there is an illuminating spirit that surrounds them and lives within.
Please visit my
SmugMug website
where you can see a selected gallery of my Snow Monkey images which, along with images in my other photographic galleries, are available for purchase in both print and digital form.