---
A serial journal of cogent reflections and irreverent insights on the social effects of capitalism and the roots of partisan politics. Pairing prose with HDR photography and "flash points" drawn from current and historical perspectives, the author seeks to recover lost wisdom and courageous action beyond the shouting and noise of today's headlines. 
Chapter Nine
Wages Decline, Credit Expands, Rapidly
Time Range: 1978-1985

What I did not know, setting my sights on creativity and meaning, was that the economic rocket ship we were on was about to sputter and go sideways. For 150 years, capitalism in the United States had functioned, despite its busts and booms, to move in an upward spiral. Working people, on average, saw their real wages rising decade after decade.
Until the 1970s, every generation had a reasonable chance to expect a better life than the previous one. Imagine if my father had not believed that. If he had believed that his sacrifices would make little positive difference for his children's circumstances. Yes, he was disappointed in me and likely wondered if my crazy talk would ever lead anywhere, but I was in college. I would have a degree that was never an option for him. Anti-Semitism was on the decline. He had no reason to fear that roads would be blocked in front of me. And they were not, but wages for the average worker hit a wall.
From 1978 to 2011, real wages after adjusting for inflation went flat, nada, nothing. I'll say it again. As best as we know from our economic models, there have been no wage increases for the average worker since the year I finished working at St. Johnsbury prison in 1978. This means that many of the inmates who found jobs in lumber mills, retail services, maintenance, and construction would be earning exactly the same amount today, once adjusted for inflation, as when they began. Or they might be unemployed. How did this come about?
Dr. Richard Wolf is an economist with an impeccable professional pedigree. He received his undergraduate degree at Harvard, his master's at Stanford, and his doctorate at Yale. He was educated at institutions with a reverence for capitalism but supplemented his studies with a curiosity about its critics, most notably Karl Marx. He argues that beginning in the 1970s, there were at least four trends that help us put today's circumstances in perspective.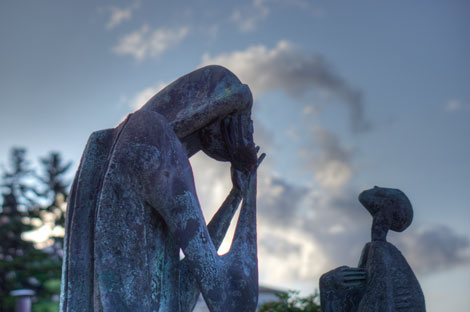 The first was the introduction of new technology, accelerating the use of computers to replace labor. Imagine, for example, the use of scanning devices to replace people physically counting business inventories. Human beings count slowly and get distracted. Forget jobs that are repetitive and can be automated. Gone.
Second was the increasing use of offshore factories for manufacturing. Recall that surplus value is enhanced when the cost of labor decreases. Finding workers on other continents who could be paid less was the perfect marriage of increasing profit while simultaneously creating new markets.
Third was downward pressure on wages as an increasing number of women and immigrants entered the workforce. This was the period when corporations began to deal with the visible reality of diversity, but the economic effect of a greater labor supply was far less visible or obvious. Women were consistently paid less than their male counterparts, and the greater overall labor supply meant more competition for jobs, thus creating a labor market in which supply outstripped demand.
The fourth trend was a response to the first three, increased use of personal debt. As the earning power of workers was eroding, the rapid rise of credit cards began to supplement income, but at a huge cost. Will Rogers's famous aphorism that when you find yourself in a hole, stop digging, became instead a search for bigger shovels. And there was no bigger shovel than credit cards and eventually mortgage debt. All these developments were slow moving and never in a straight line, but we can now see where they were leading.
Other social and economic forces were operating as well. In roughly the same 30-year period when workers' wages were slowing down to a crawl, Fortune 500 companies saw corporate profit increasing as they grew in size and complexity. Amid this growth, fascination with the organizational leader (CEO) became quasi-cultish, symbolized by life-sized cutouts of Chrysler's CEO, Lee Iacocca, filling bookstore windows. His autobiography was the best-selling hardcover nonfiction book in both 1984 and 1985. And just two years earlier, the birth of popular management books began with the hugely successful In Search of Excellence, attributing success to management savvy.
The success part turned out to be illusory, but the fascination with heroic leadership and management techniques became a major industry. Meanwhile, no one paid attention to the calculus of surplus value, how limiting wages was a driver of capital profits. In academia and professional consulting, we may have become more conscious of organizations as systems and the need for strategy, discipline, and leadership, but as citizens, we for the most part did not question the economic institution we operated within. We were, to put it simply, unconscious of capitalism and its myriad influences.

FLASH POINT
 San Francisco, 1984                                                                                                                  
In a friend's San Francisco apartment, I dictated my doctoral dissertation from handwritten notes to a typist working with one of the first home computers. For someone who had never mastered the typewriter and whose handwriting was virtually illegible, this was a technological event with great personal meaning. Advances in technology literally gave me an opportunity to pursue my life's work.                                                     
The subject of my dissertation, however, was somewhat off the beaten trail of society's progress. I was researching the parallel historical conditions of social institutions such as prisons, mental institutions, public schools, and workplaces. My thesis was that surveillance and control had become dominant characteristics of these institutions, resulting in the institutionalization of the soul. We were losing a fundamental relationship with both nature and our own inner world. We were losing a spiritual connection to the transcendent, a perspective larger than just our own self-interest.
What I had not considered was another kind of person who was gaining greater and greater freedoms. This was the corporate person. I don't mean the organizational man of the '50s and '60s. I'm talking about a corporate entity with the legal rights of a person and whose sole legal concern was self-interest.


Next Week: 
Chapter Ten: Corporate Persons: What Does Not Serve Me Shall Not Be My Concern 
Who even knew that corporations had legal rights as if they were actual persons? In a strange twist of legal gymnastics, the originating idea of a corporation being birthed and legitimized by a government grant had been transformed into a corporate body beholden to no one but its owners.
Economic self-interest was the law of the land, and the corporate persons cultivated in such an environment could be as sweet as your dear auntie or as self-serving and weird as the guy down the block wearing just a raincoat.